Monitoring and sending alerts 24 hours a day for lightning, heavy rain
or gale conditions to your location or area of ​​operation.
Functionalities
Get alerts by voice, SMS,
Email and PUSH
Program with climate
risk tables
Largest network of
weather stations in Latin
America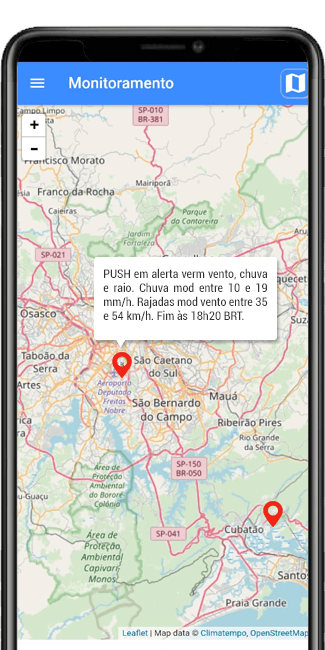 Access to historicrain, temperature and lightning
Monitoring 24h / 7 days per week
Talk to a consultant and learn how SMAC can help you
How to plan
Planning
With SMAC, you can minimize project risk and vulnerability across multiple industry sectors and IT can be tailored to your business. The system assists in making fast and accurate decisions.
Push, SMS, Email or voice
The system monitors and alerts in real time storms, windstorms, hail and lightning anywhere in Brazil.
Check it out!
Have stored the history for later checks and analysis, whether it is accumulated rain, temperatures, lightning or alerts issued. Monthly receive this report by email.